NFL News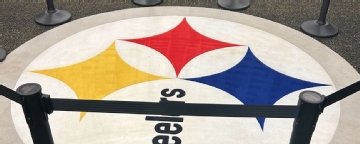 Steelers' plane makes emergency landing in KC
The Steelers' charter plane from Las Vegas made an emergency landing in Kansas City, Missouri, early Monday morning.
Dolphins drop 70 points on Broncos in record day
The Dolphins scored 70 points in Sunday's beatdown of the Broncos, the most points by any NFL team since 1966.
McDaniels defends late FG with Raiders down 8
Raiders coach Josh McDaniels explained his decision to kick a short field goal with his team trailing by 8 and 2:25 to play Sunday night against the Steelers.
Mahomes becomes fastest to 25,000 career yards
In Kansas City's 41-10 win over the Chicago Bears on Sunday, Chiefs quarterback Patrick Mahomes became the fastest player in NFL history to reach 25,000 career passing yards, following a 37-yard throw to Marquez Valdes-Scantling in the third quarter.
0-3 Bears vow to 'take a hard look' at everything
The Bears suffered a 41-10 defeat against the reigning Super Bowl champion Kansas City Chiefs to extend their losing streak to 13, which is the longest active streak in the NFL.
Texans got 'right guy' as QB Stroud makes history
Texans rookie C.J. Stroud became the first QB in NFL history to pass for at least 900 yards with four passing touchdowns and zero interceptions over his first career starts.
Dobbs comes 'full circle' as Cards upset Cowboys
Journeyman quarterback Joshua Dobbs and new Cardinals head coach Jonathan Gannon earned their first career wins in a massive upset of the Cowboys on Sunday.
Home crowd noise dooms Vikings' final playcall
The Vikings' final offensive play was derailed Sunday when Kirk Cousins couldn't hear coach Kevin O'Connell's playcall and then decided to call a play on his own, which ended in a game-sealing interception for the Chargers.
Debating draft sleepers, risers and more
When will a top defensive prospect have a dominant performance? Who will emerge as the class' WR2? Our experts weigh in.